Cooking Thyme With Tristan: Loomis's Lemon Pepper Chicken Skillet
Who doesn't love a good chicken skillet meal? It's healthy, delicious and easy to prepare, and today we'll show you one that you're sure to add to your favorites.
Here's what you will need:
4 tablespoons olive oil
1/2 teaspoon paprika
1 teaspoon onion powder
1/2 teaspoon cayenne
1 tablespoon fresh parsley
1 tablespoon fresh basil
4 tablespoon lemon pepper
Squeezed juice of 1 lemon
Salt and pepper
2 red bell peppers, sliced
1 zucchini, sliced
1 cup cherry tomatoes
1/2 bag of Fresh Green beans
1/2 bag of carrots, sliced
1 cup chicken stock
1 tablespoon red pepper flakes red pepper flakes * 2 skinless boneless skinless chicken breasts
Here's what you need to do:
Toss the chicken with 2 tablespoons olive oil, paprika, onion powder, cayenne, parsley, basil, lemon juice, red pepper flakes, salt and pepper and lemon pepper. Cook until chicken is golden brown.
In a separate pan, let vegetables simmer in 2 tablespoons olive oil and red pepper flakes!
Mix together and let simmer for a few moments!
My lovely girlfriend was my guinea pig for this zesty dish! It was a little too spicy for her liking but I really loved it! I have room to grow with this one but I was pretty happy with it! Give it a try and let me know how it turns out!
Until next time…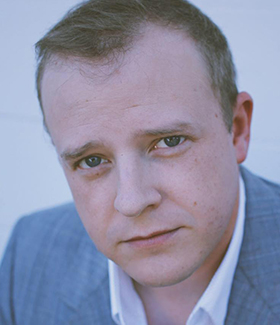 Tristan Layne Tapscott has been dubbed the "Quad Cities' P.T. Barnum" and although the person who initially said it meant it as an insult, he happily accepts the title.