Cooking Thyme With Tristan: Asian Chicken And Vegetables
Chicken is a menu staple for many people who enjoy it in a number of styles, and in the first episode, Tristan Tapscott goes beyond the typical breaded strips and grilled chicken to make up a tasty Asian-themed chicken and vegetables dish!
Anyone can do this! I'm living proof! Let's begin!
WHAT YOU WILL NEED:
Two boneless chicken breasts 1 tsp corn starch
3 tbsp soy sauce
3 tbsp oil (for stir frying)
3-4 cloves garlic (minced) 3 bits of crystallized ginger 2 tbsp sherry
Handful of fresh basil Fresh green beans
Peas and carrots mix 2 cups rice
2 cups water
Sauce:
2 tsp tamarind paste
(If unable to find tamarind paste, substitute equal parts lime and brown sugar – 1 full like squeezed into 2 tbsp of brown sugar)
1/3 cup chicken stock
2 tbsp sugar
1/4 to 3/4 tsp red pepper flakes
WHAT TO DO:
Cube chicken breasts
(We were unable to find chicken breast during this pandemic so we substituted Tyson's precooked canned chicken instead..it wasn't terrible)
Dissolve corn starch in soy sauce. Pour over chicken in a bowl, set aside and let it marinate.
Combine sauce ingredients in a pan over low heat, simmer until sugar and paste have dissolved. If you're substituting lime and brown sugar for tamarind paste, mix those together first, then incorporate into sauce.
Simmer oil, minced garlic, and crystallized ginger in a large pan. (If you forgot the garlic like we did, a tsp of garlic salt will due just fine). When ginger has dissolved, add in chicken, vegetables, and sherry. Stir on high heat until chicken and vegetables are cooked through. You may need to add a tablespoon of sherry whenever the pan becomes dry.
While the stir fry is cooking, start your rice in a separate pot. Bring 2 cups of water to a boil. Stir in 2 cups of rice. Cover and let boil for 5 minutes. Fluff with a fork.
Add your tamarind sauce to the stir fry. Mix well. Remove from heat. 7. Plate, sprinkle fresh basil on top, and enjoy!!
A FEW TIPS:
Follow the actual instructions!
Don't forget ingredients!
Also make sure you can find ingredients!
Come up with a back up plan if you can't find ingredients!
Make sure you know how to measure things!
Have fun, be silly, and enjoy yourself
THE REVIEWS:
"Honestly, I wasn't positive how it was going to turn out but it was edible! Yay! It had a little kick because I was went overboard with the red pepper flakes but that's a tragic flaw! It energized me and was a totally inspiring experience!"
-Tristan
"Overall, this dish was really great! The flavors worked together well and it's a meal I would definitely eat again. He went a little crazy with the red pepper flakes (he decided to eyeball it rather than measure), so it was a little hot, but still edible! Since we couldn't find any normal chicken breasts, we went with the precooked canned chicken. It started to shred quite a bit as we cooked it, so it ended up being a strange texture. But it was still chicken and tasted fine! For a man who doesn't do a ton of cooking, Tristan did an excellent job! I think I would even trust him to make me dinner again."
-Savannah
FOLLOW ME:
Instagram: @tristanlayne
Facebook: search Tristan Tapscott
TikTok: @tristantapscott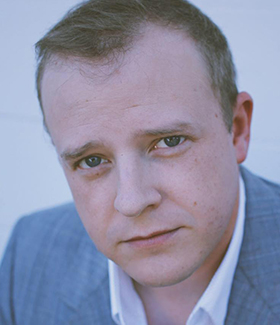 Tristan Layne Tapscott has been dubbed the "Quad Cities' P.T. Barnum" and although the person who initially said it meant it as an insult, he happily accepts the title.