Shifting The Lens
There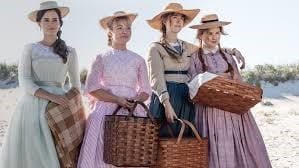 are two incontrovertible facts: the first is that Louisa May Alcott was a fascinating human being. Her parents were Transcendentalists. She took lessons from Henry David Thoreau. She wrote a play for the Boston Theater and subsequently burned it due to infighting between her actors. Alcott briefly served as a nurse during the Civil War, survived typhoid fever, was a feminist, and was active in the abolitionist movement. To put it plainly, she was a baller.
Oh, also? She wrote Little Women.
That brings us to the second incontrovertible fact, which is that up until very recently, I was almost totally ignorant about Little Women. Sure, I'd heard of it, and I was vaguely aware that the narrative concerned the exploits of the celebrated March sisters. I knew the 1868 novel was wildly popular. I knew that scads of adaptations had taken place over the years.* I didn't know why.
Was my ignorance and apathy due to a kind of subconscious sexism? Yeah, I think so. The majority of films these days continue to have the point of view of a straight white dude, and that P.O.V. is viewed as "normal." To make things more complicated, America continues to be a deeply racist and misogynistic country.** I'm a product of that, and I think the best way to move beyond that is through empathy. To up your empathy game, try immersing yourself into the point of view of someone unlike yourself. Greta Gerwig's adaptation of Little Women allowed me to do just that through filmmaking that's smart, funny, and up to the moment.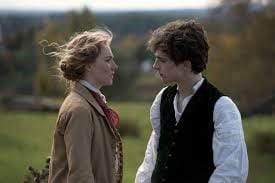 Our introduction to the March family begins in 1868. Jo (Saoirse Ronan) works as a teacher in New York City, and she's hustling to make it as a writer. A meeting with editor Mr. Dashwood (Tracy Letts) proves fruitful and after some ruthless cuts to her story, Jo finds herself a published author. Making things more complicated is her flirtatious jousting with the young Professor Bhaer (Louis Garrel). It might lead to something more, but Jo receives word that her younger sister Beth (Eliza Scanlen) has become seriously ill. She's compelled to return home to Massachusetts.
In the meantime, Jo's sister Amy (Florence Pugh) is semi-enjoying herself in Paris. The upside for her is that she's yearned to be an artist, and the exceptionally deep pockets of her Aunt March (Meryl Streep) allow her to get the very best schooling. The downside is that Aunt March is what you might call a traditionalist, and she delights in constantly reminding Amy that the young woman will soon need to give up her artistic pursuits and find a husband, preferably a rich one.
Additional complications ensue when Amy runs into Laurie (Timothée Chalamet). He's a childhood friend of the March sisters, and while he delighted in all of their company, he still carries a torch for Jo. While all that is going on, we also check in with Amy's sister Meg (Emma Watson). Meg has married John (James Norton), a man of innate decency yet modest means. They have two young children and love each other, but love can't pay the bills.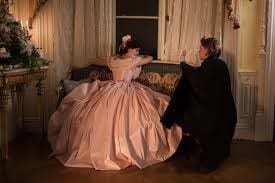 The first thing to bear in mind is that this iteration of Louisa May Alcott's story hopscotches between a span of seven years and begins the story with the early adulthood of the March sisters. I know, it would have come as a bit of a shock to her. It's fine because a) I think she would have appreciated the elegance of Gerwig's restructuring and b) she's not around to complain. The narrative ping-pongs back and forth, creating a cinematic experience that merges Little Women with Pulp Fiction.
To do that, Gerwig needed to know Alcott's novel inside and out. She does, and she puts that extensive knowledge to use with dazzling creativity. The non-linear structure of her screenplay allows her to examine moments in the two timelines. We see how happenings and decisions in the lives of the March sisters reverberate through time, and the past and the present inform the characters and their choices. It's fitting that Louisa May Alcott used moments from her own life to bring her novel to life. Gerwig takes a cue from the author and draws parallels between Alcott and the March family. Her screenplay is the perfect example of a writer making an adaptation that feels simultaneously respectful of the source material without being beholden to it.
Gerwig's skillfully-made film bursts with life and energy. The mistake many period pieces make is that they hyper-focus on the details of the past, trapping the characters in amber. Little Women nimbly sidesteps that flaw, and characters living in the nineteenth century feel just as contemporary and relatable as the present day. The film is warm-hearted, and I thoroughly enjoyed watching this family blow into rooms with gale-force power, bicker, then ultimately support each other.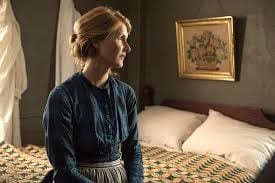 The cast of Little Women is literally insane. Every scene features actors of formidable talent and intelligence working together harmoniously. Looking for sisterly rivalry and reconciliation between Saoirse Ronan's hardheaded Jo and Florence Pugh's forceful Amy?*** How about the reveal that Laura Dern's preternaturally sweet matriarch Marmee nurses deep oceans of anger, or the struggle of downward mobility with Emma Watson's clotheshorse Meg? Across the board, the performances are uniformly excellent.
Is this version of Little Women absolutely necessary? It is. It's an incontrovertible fact that every completed film is a small mountain climbed. To have a film like this that works on every single level, that celebrates the innate decency of people, and all during a time of seething hostility and polarization? It's nothing short of miraculous.
* There have been eight film adaptations, nine television adaptations, an opera and a musical. For a novel written 152 years ago, that number of adaptations isn't bad.
** "No duh," I hear millions of you saying. I had my mind blown listening to philosopher Kate Manne on a podcast. Check out her book Down Girl: The Logic of Misogyny.
*** Florence Pugh apparently began filming this after her role in the psychologically horrifying Midsommar. I would imagine the experience was therapeutic.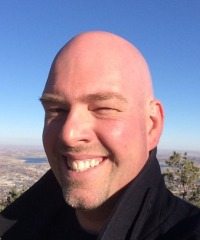 Tim has been alarmingly enthusiastic about movies ever since childhood. He grew up in Boulder and, foolishly, left Colorado to study Communications in Washington State. Making matters worse, he moved to Connecticut after meeting his too-good-for-him wife. Drawn by the Rockies and a mild climate, he triumphantly returned and settled down back in Boulder County. He's written numerous screenplays, loves hiking, and embarrassed himself in front of Samuel L. Jackson. True story.